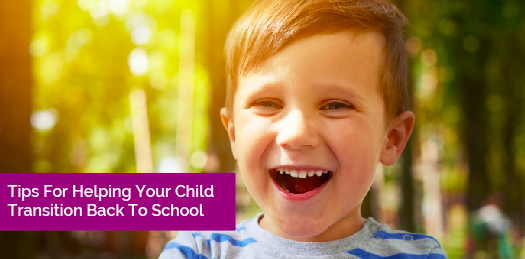 The start of a new school year can be an exciting time - new friends, new teachers and fun, new school supplies! However, it can also be a source of anxiety for children: leaving the comfort of home, separating from mom or dad and overall, uncertainty.
Our therapists have pulled together some tips to help parents and children during this exciting but oftentimes scary transition.
Do a run-through. For kids going to a new school (or for any child anxious about going to school), have parents drive by the school to show the child where it is and what it looks like. Do a walk-through of the school and meet the teacher, if you can. Talk about what drop-off and pick-up will look like. If they take a bus, what bus number is it, etc. If there are any familiar faces at the school, talk about them (i.e. a neighborhood friend, an older sibling).
Check out play spaces. If physical activities can be difficult or intimidating, explore the new playground at the school so your child feels more comfortable at recess.
Role Play. Use pretend play at home - role play as teachers and students using dolls, stuffed animals, or figurines. Act out what it would be like in the classroom, lunchroom, P.E., art, etc.
Read about it. There are many books about the topic of starting school and going back to school; read them together, aloud, and encourage questions about anything your child may be unsure of.
Share your experiences. Have parents talk about how they felt going to school. Validate being afraid and nervous. Talk about things you were excited about, positive experiences you remember, etc.
Keep Passions in Play. If your child became a weaving whiz at summer camp or a diving champ at the local pool, keep it going. Integrate new summer hobbies into the school year by finding after-school clubs or groups that will let children continue to do the cool new things they tried this summer!
Have fun with practicing independent skills. Make it a game, have a race! Some independent skills to practice include washing their hands, using the toilet, putting on shoes and socks, hanging their coat on a hook, putting on a backpack, and using utensils at the table — all are important skills that they will be working on in early school age years!
Acknowledge feelings. Although it's tempting to quickly reassure your child school will be fine and move on, it's important to let your child know that his or her worries have been heard. Allow your child to express their feelings, listen closely and acknowledge your child's feelings about the end of summer time.
Create a social story. If a child is really anxious, you can make a social story about going to the new school. This can be made on a PowerPoint talking about what each day will look like (for example: wake up, get ready, eat breakfast, go to school, play with friends, see mom at end of day, etc.). If the parent is able to get pictures of the school to add to the story, that would be best. Then they can read that story leading up to their first day of school.
Help them help themselves. Have your child work on self-help skills that they will need to be able to do in school by themselves such as putting shoes/coat on before going to recess, opening containers and eating with utensils at lunch, drinking from water fountain, and putting backpack on at the end of the day.
Keep an active schedule. Going back to a structured schedule can be hard for kids, especially if that means more seated activities then what they are used to. Make sure the kids still have opportunities to move their bodies before and after school if they need it. If your child is an early riser, you can try going for a walk, yoga poses or animal walks before school. If it's after school, you can try going to the park or making obstacle courses.
Don't forget about the little things. Make sure you leave plenty of extra time to get ready in the morning so it's less stressful for everyone. Give your child choices whenever possible to help them feel more in control. Have them decide what they want for breakfast and lunch. When shopping for school supplies let them pick out their own items (i.e. a "super hero" backpack may make all the difference in getting them out the door or into the classroom).
Attitude is everything. Try to be as positive and enthusiastic as you can about your child going to school. Children feed off their parents' vibes. You can talk about how fun it's going to be and have them draw pictures of things they are excited to do and try at school. This can also help them get back into coloring/writing activities and work on their fine motor skills.
Watch our video on our
NEW Learning Series:
Pre-Handwriting
Sign up for our Saturday Enrichment Classes
ENROLLING NOW for our Therapeutic Preschool
We now accept Medicaid for Physical Therapy and Speech Therapy! Call us at 312.242.1665 for more information.
Tips provided by Lumiere therapists. Learn more about them below.
Shannon received her Master of Arts in Communication Sciences and Disorders from the University of Florida in 2011. Since then, she has practiced as a licensed speech-language pathologist, working with the pediatric population in clinic-based and school settings. Shannon has evaluated and treated children presenting with a wide range of communication disorders related to speech sound production, phonology, fluency, literacy, language processing, and pragmatics/social communication. She has specialized training related to the following programs: Social Thinking; Orton-Gillingham Scope and Sequence for Dyslexia; LiPS (Lindamood Phoneme Sequencing Program); Zones of Regulation.
Claire is a licensed clinical social worker who has experience working with children and families from diverse backgrounds. She has been a social worker since 2007 when she graduated from Loyola University Chicago with her Bachelor's in Social Work. She earned her Master's in Social Work from Jane Addams College of Social Work in 2011. Claire's treatment specialties include anxiety, depression, self-development, and building skills around self-regulation. Claire also has extensive experience with de-escalating crisis within families along with aiding caregivers in developing attunement skills and effective response to children's behaviors.
Kelly is a registered and licensed occupational therapist who has experience working with children ages 0-13 with a wide variety of diagnoses and disabilities. Kelly has pediatric experience in outpatient, inpatient, clinic and in-group settings. Kelly collaborates with other professionals, team members and most importantly the family in order to provide the child with the best possible care. Kelly helps children achieve their fullest potential and helps families to better understand their child. She graduated from University of Missouri with her bachelor's degree in occupational science in 2013 and master's degree in occupational therapy in 2015.